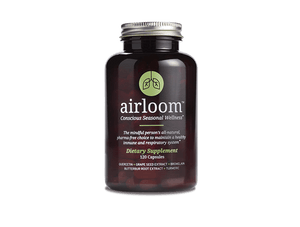 Airloom
Sale price Price $40.00 Regular price $45.00
Breathe in a healthy dose of life with Airloom, the mindful person's all-natural, pharma-free choice to maintain a healthy immune and respiratory system.
Airloom helps keep your immune system in chill mode by supporting a healthy immune response to seasonal stress. Our all-natural formula blends five ingredients to maintain healthy histamine levels and keep our sinuses and nasal passages clear, all without getting big pharma involved.
Ingredients
Airloom's ingredients provide the highest possible purity and potency, all chosen for their unique abilities to maintain healthy histamine levels and provide antioxidant properties.
Airloom's ingredients are all-natural, vegan, soy-free and gluten-free. They include:
Organic quercetin
Organic grape seed extract
Organic bromelain
PA-free butterbur root extract
Organic turmeric
Every batch of Airloom is tested by an independent, third-party laboratory before being sold. Airloom is created in the U.S. by an FDA-registered manufacturer under stringent quality control guidelines.
Safety Considerations
Airloom should not be used if you are taking anticoagulants (blood thinners). 
Do not take Airloom if you have known allergies to its ingredients or if you are allergic to pineapple.
Refund Policy
If you're not 100% satisfied with Airloom, we offer 100% money-back guarantee and free returns within 30 days of purchase. Please call us at 520-838-9009 or email us at info@airloomsupplement.com so we can learn about your experience and remit your refund.
*These statements have not been evaluated by the Food and Drug Administration. This product is not intended to diagnose, treat, cure, or prevent any disease.
Customer Reviews
10/05/2020
Christena V.
United States
I recommend this product
Exceptional Intentional Nutrition
I take Airloom daily & feel the positive effects in my body. Combining Airloom with my Yoga & Vegan lifestyle has given me a new stepping stone & aspiration to drive towards continuing to do & be better Thank You for giving us life-changing nutrition
05/10/2020
Anonymous
United States
I recommend this product
I was sent expired product
Will not buy again
04/12/2020
Anonymous
United States
I recommend this product
Wonderful product!!
I Have been using it for over a year and very happy happy with it. My allergies cleared, I take it once a day before bed.
04/08/2020
Anonymous
United States
I recommend this product
Breathe Better
I have dealt with the 'spring rattle' in my chest for as long as I can remember. Airloom keeps my airways clear without steroids or other drugs.
09/13/2019
Monika R.
United States
I recommend this product
I was shocked at how well over-all I've felt
I thought maybe this would be another one of those flukes but since using my first daily dose last week I've felt great overall & even my typical motion sickness & sinus congestion is down to a bare minimum. Thanks so much Airloom!! You have been a literal life changer!